I recently checking out Foldees, a desginer greeting card, a small startup in Malaysia. The founder wrote a piece of good article in e27.sg.
After viewing the site a few time here and there, checking them out, and I notice why it doesn't work and I believe spend some fund on it. Well, I did the same exact mistake before too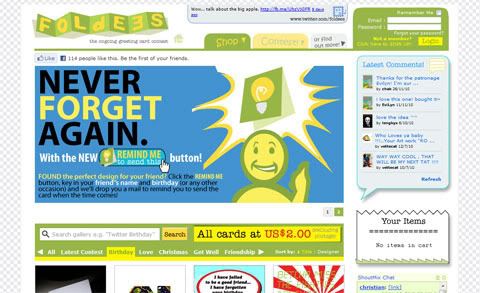 User Interface, User Experience
Both are almost NIL on the site. Maybe the concept isn't sync with the business concept itself. First off, it's a designer greeting card. But the whole site doesn't show the sense of designers. Instead, it looks more like the China website – Full information. There is no way one can navigate around the site easily and get to the wanted information.
Click on the picture, it load in the page; click on the title, open in new windows. I mean, there is the third-click on my mouse, there too have a right-click menu, why control how I browse the site? Let me decide how I browse with my own browser.
Poor SEO
A basic keyword of "Designer greeting card" doesn't shows the site at all. Not even in the first 5 pages. With such age of website, keyword should be already in the search engine. Probably because no copywriter. Look into their copy, it is more like a casual blogger piece of content than a professionally wrote copy. I did that ALL the time back in the 90′s
Not only did the site has a poor SEO keyword and tags, the site is crumbed with Javascript on top of it. I do understand the Malaysia server, Malaysia users. But how about the International users they are expecting? That definitely bring down the whole search engine friendliness.
In my opinion, they did not fully utilised their fund in a way to help marketing. Instead, it is spent mostly on prototyping the whole system and marketing gimmick itself.
I do believe with such a unique idea of startup, it can still work well. But how well, will depend on how much hardwork to put in.