Archive of 'Stupidity' category
My kitchen new buddy – Timer
Honestly, we all get influenced by America more than British, eventhough we have been a British colonial for years. From the missing "u" to the ascent, we all following America than British, the English that we have been taught since young. So you tell you, how the hell can we learn from the East, beside watching the pornography from the East.
Back then, I always thought football as rugby. Because the influence from the TV, and remember back then the small genius game console? Those too call "soccer" when it comes to football (The kind we know). The good old shoulder braces for football doesn't really sell here though, as we play a better rugby game. My secondary high school was famous with their rugby, not sure because the gangsterism or what, but we just keep winning number one all the time.
Anyway, speaking of which, maybe I should start writing in a proper English because learning back those grammar, vacabulary and etc etc, which I missed a lot since schooling day… Because I hate study and not to mention, memorise stuff like present tense, past tense and all shit like that.
Very often when two debating or arguing about government, it surely comes to political parties. And from there on, things become good and bad. Like a good guys trying to save the World while the bad guys are sitting in the power that be.
Government or political parties, often about having the right policy and wrong policy for the nation. Both standing on the same line only different view. However, even they, themselves making fun like you are bad guy, I am the good guy.
This is one heck of a video that I don't know how to face my Prime Minister next time he appear in front of me.
The other day my friend told me there was this office going to be close down, and all those furniture are going to be throw away. In our case, we like office furniture, so off we go there just to get some useful stuff.
At first I was thinking to collect all those office furniture and sell it to second hand shop or a barter shop to exchange something else. But a small Saga cannot handle that much.
Anyway, while we were there, there are lots of papers, member cards, books even Adapexin pills and so on. We collected…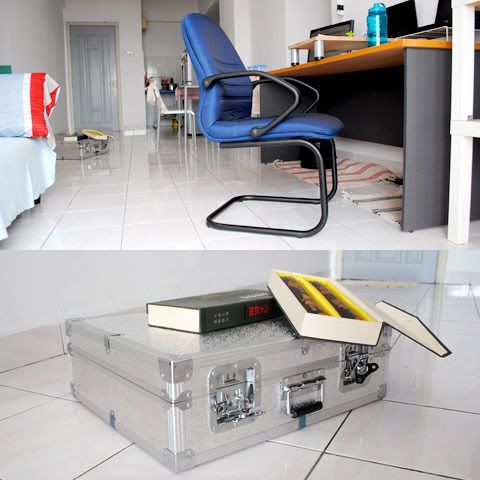 An aluminium suitcase, paper holder and an office chair.
The price to pay that?
Flu…
Now I know why some people curious about me cooking while working at home…