Few weeks ago, I felt some itchiness around my body. I didn't really care about that, as I would like to rush on my work before tomorrow comes (Hari Raya – Holidays). Until last week I take the action to go see a doctor, hopefully he can fix the problem. Yes he did, with the medicine he provided. But then…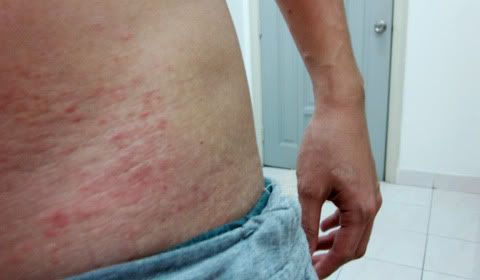 The shit got real again this time, after all the medicine finished! And I am on my way to some vacation!
The problem is, the doctor and I have no idea what I allergic to. So there is bascially no base for this thing to stop yet. A full body check out has been in my plan since… Last October! Until today, I'm still not going, reason? I don't want to empty my stomach for 8 hours and go see doctor so he can take my blood and make me feel dizzier. Maybe I can consider some other check out method like placing holter all over my body, read my heart beat and do some exercise and etc.
Sigh… I cannot take health as a joke now, time to running as well as my age…